She Sells Sea Shells
by Debbie Todd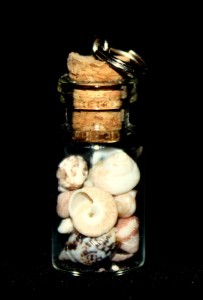 She Sells Sea Shells is a new and exclusive range of jewelry. Each tiny glass bottle is filled with miniature sea shells hand picked on the tiny Greek island of Spetses.

Bottles come in two sizes - large (4cm tall) and small (2.5cm tall). The bottles can be hung on 2mm adjustable leather thong so that you can change the length of the pendant according to what you're wearing - or you can choose to have your pendant on an 18 inch silver plated chain.

We also have a collection of key fobs featuring the small glass bottles (filled with shells, of course) and a horseshoe nail threaded with a skull bead.

Whichever item you choose, you can be sure that it's unique - no two bottles are the same as the shells differ so widely. All of the shells are amazingly tiny and only the very tiniest fit into these bottles. There are at least 4 types of shell in each bottle.
Last updated on Aug 12, 2012